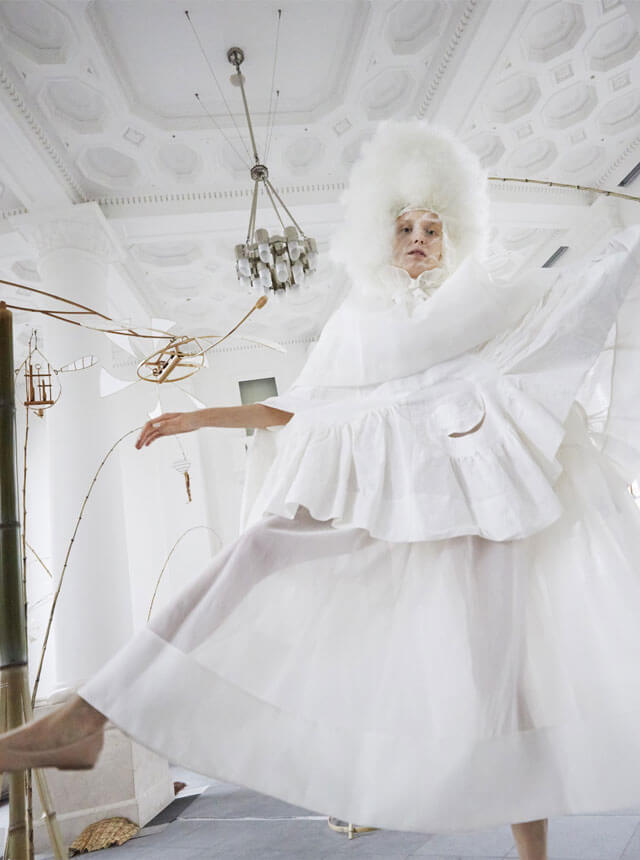 poncho, top and dress by WRITTENAFTERWARDS, shoes stylist's own
Encounter|Maki Maruko & Riina
妖精を呼び寄せる不思議な時空間への廻り
「Encounter=出逢い。」

世界中に存在する、アーティストたちとの巡り合い。
多彩なクリエイターたちの才能を披露する場として、彼らが表現する瑞々しく独創的な作品の中から、琴線に触れる作品を編集部がピックアップ。
選び抜かれた、個性豊かな感性に想像を巡らせて。


A uniquely precious encounter with artists from all over the world.
As a platform to exhibit and unveil the various talent, Lula JAPAN's editorial team have selected the most vivid and genuine works from artists around the world.
Entrust your heart to this creative and unique new sensibility.
No.110 "Hora"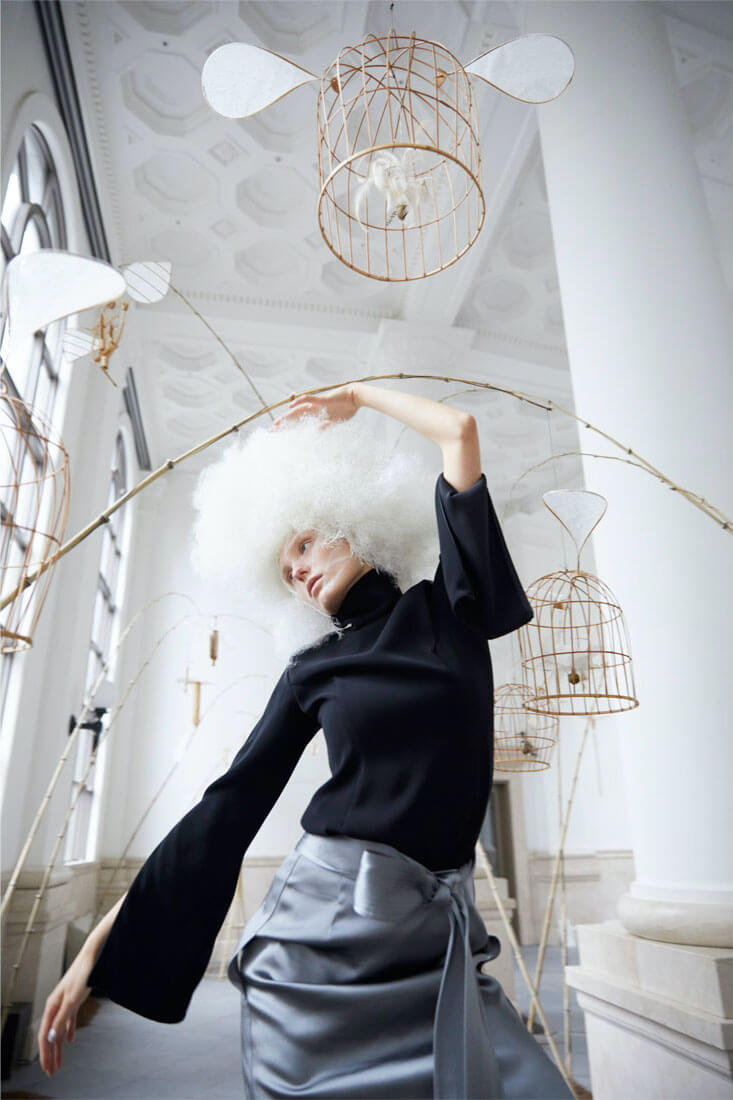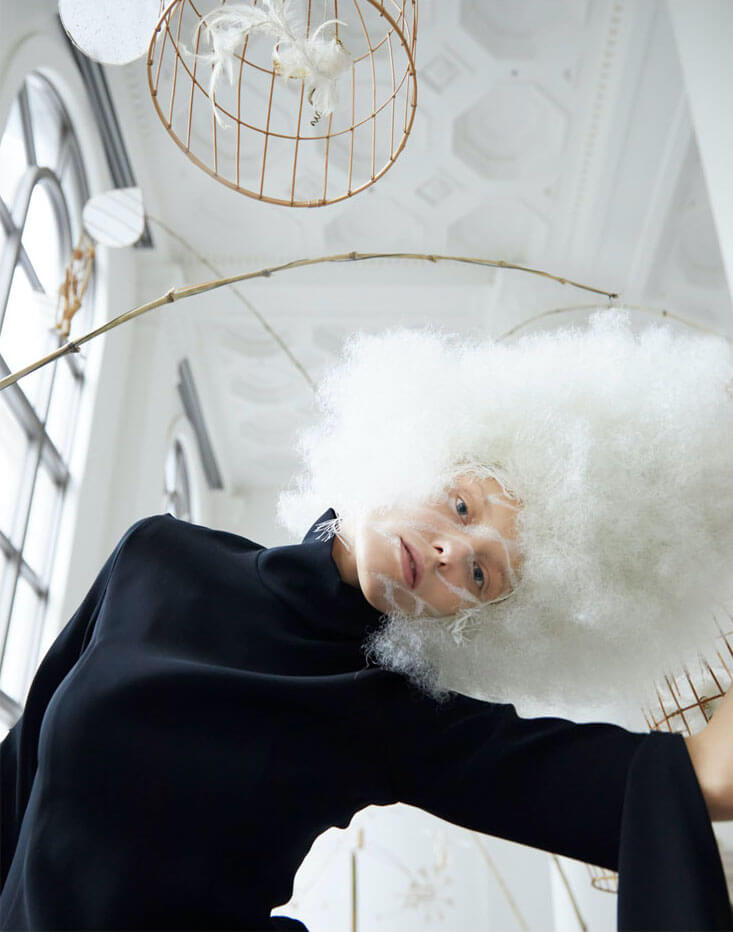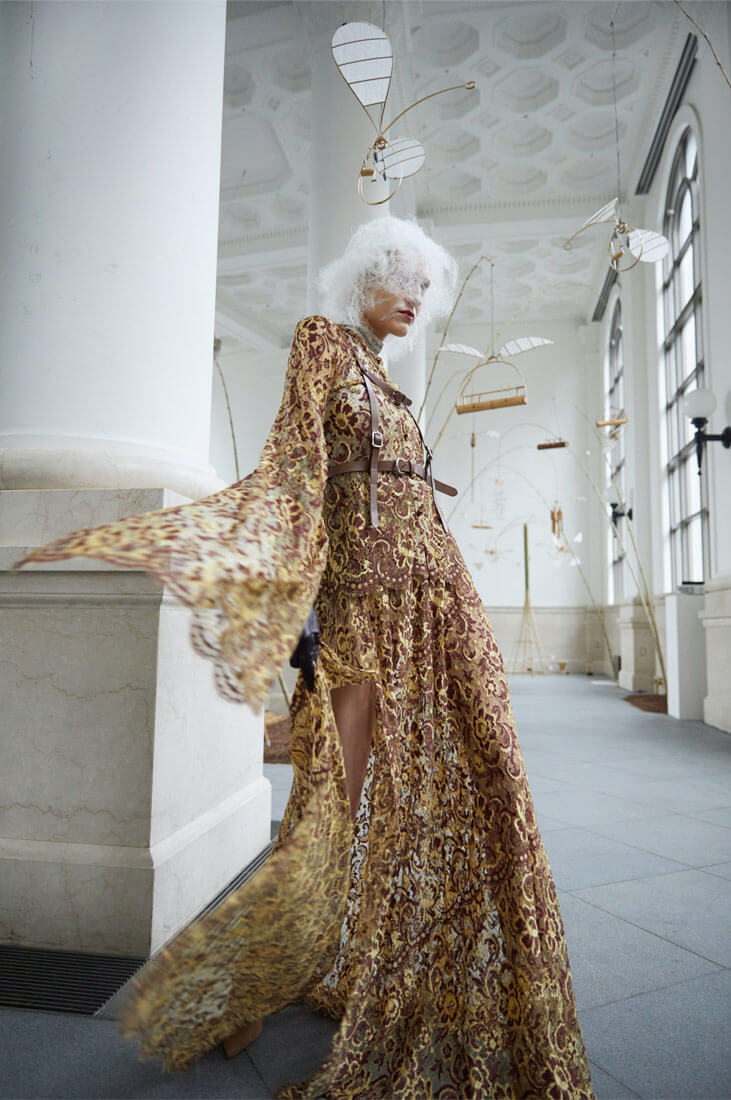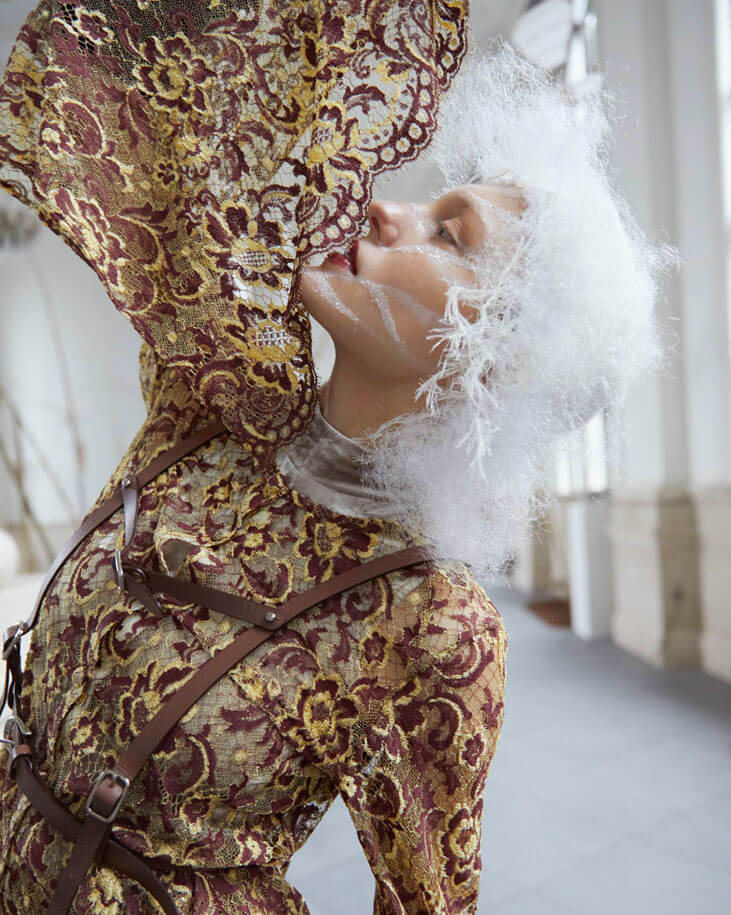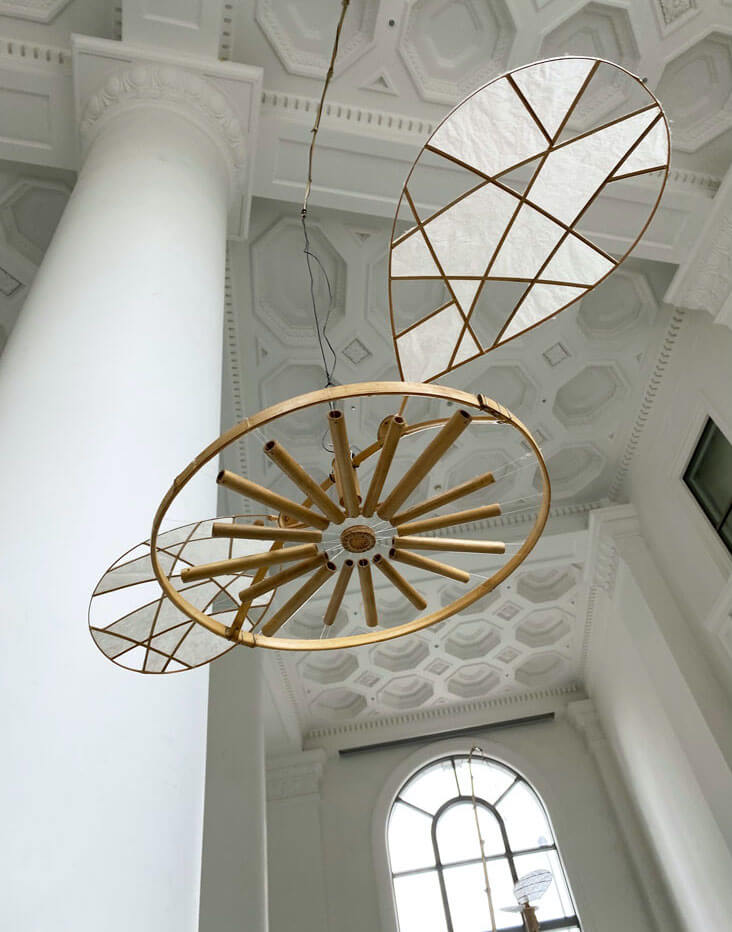 そこには外と違う時間が流れている。
たくさんの美しい鳴き声をした妖精がそれぞれ自由に歌い自由に飛び回る、不思議な森だ。
この森に住む彼女は妖精たちの歌を聞くのが大好きだ。
彼女も楽しそうにあちらこちらを歩きながら、どこからかやってくる風に心地よさを感じた。

時と、季節のうつろいは早い。
風を操る妖精たちは春にはふわっと暖かい空気を運び花を咲かせ、冬には遠い雪口から澄んだ冷たい空気を運び世界を真っ白に染める。
彼女だけが知っている。
妖精たちがつくるこの森が四季の始まりの森であると…

The time flows differently there, from the outside world.
It is a mysterious forest where many fairies with beautiful voices sing and fly at liberty.
This forest is her home, and she loves listening to the songs the fairies sing.
She enjoyed a stroll and the feel of the cozy breeze which passes her by.

Time flies and the seasons go around so fast.
In Spring, fairies who manipulate the wind, bring the soft warm breeze to bloom flowers.
And in Winter, they bring brisk cold air from far snow region, and cover the whole place in white .

Only she knows that this forest made by fairies is where the seasons born…



Photography by Kazuo Hirano
Styling by Maki Maruko
Hair by Nukui Takayuki
Direction and Make up by Riina
Model by Jo Kruk at STAGE MODELS TOKYO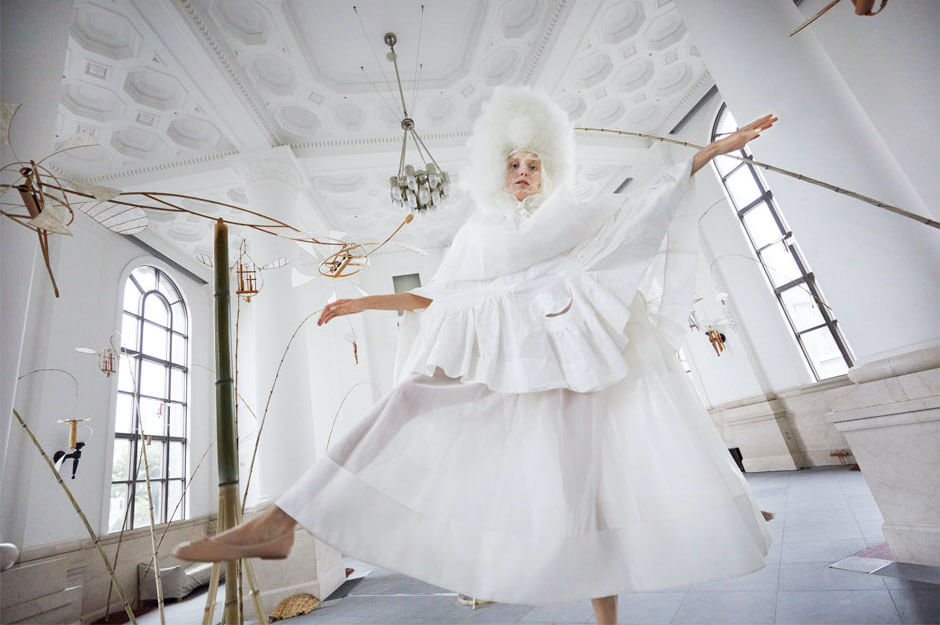 Maki Maruko/Stylist
(Tokyo based)

「Airy sensations(目に見えない空気の特色)」
竹で製作されたオブジェが織りなす造形美。
そこには竹を通して
空気が共鳴する。

ゆっくり…

時には鋭く…

目には見えない空気の音・速さが調和し
感覚を通して空気が色づく。

その目に見えない空気の色づき・速度を
モデルを通してファッションで表現しました。


The shape and beauty that objects made of bamboo possess.
The air resonates there through the bamboo.

Slowly…
At times sharp…

The unobservable sound and speed of air aligns.
Catches color when passing through sensations.

Those unobservable colors and speed
are what we tried to express with the model's fashion.



Riina/Hair and Make up Artist
(Tokyo based)

「Dwelling with fairies(妖精との共存)」
この撮影の舞台となったBankART Studio NYKに入った瞬間、静けさのなかにフワフワと浮かぶ様々な形の羽の生えたオブジェに囲まれ、そこだけ違う時間が流れているような不思議な感覚になりました。

この作品は私がギャラリーの中で妄想した、飛び回るたくさんの妖精と暮らす女性のストーリーを表現しています。
チームのメンバーはそのストーリーを聞き、それぞれのジャンルでこの女性像を作り上げてくれました。
撮影中ギャラリーの中でモデルが踊るように動いている様子は、本当にそこに存在する女神のようでした。

The moment I stepped into the BankART Studio NYK, I was surrounded by objects with wings that fluttered and felt as if time and space travelled differently in this atmosphere.
This was the story I imagined in my head about the gallery; a story about a girl who dwelled with fairies that fluttered around her.
Our team heard about my story and came up with a range of genres for the muse.
The model who danced around whilst filming really did look like the goddess that existed in the fairytale.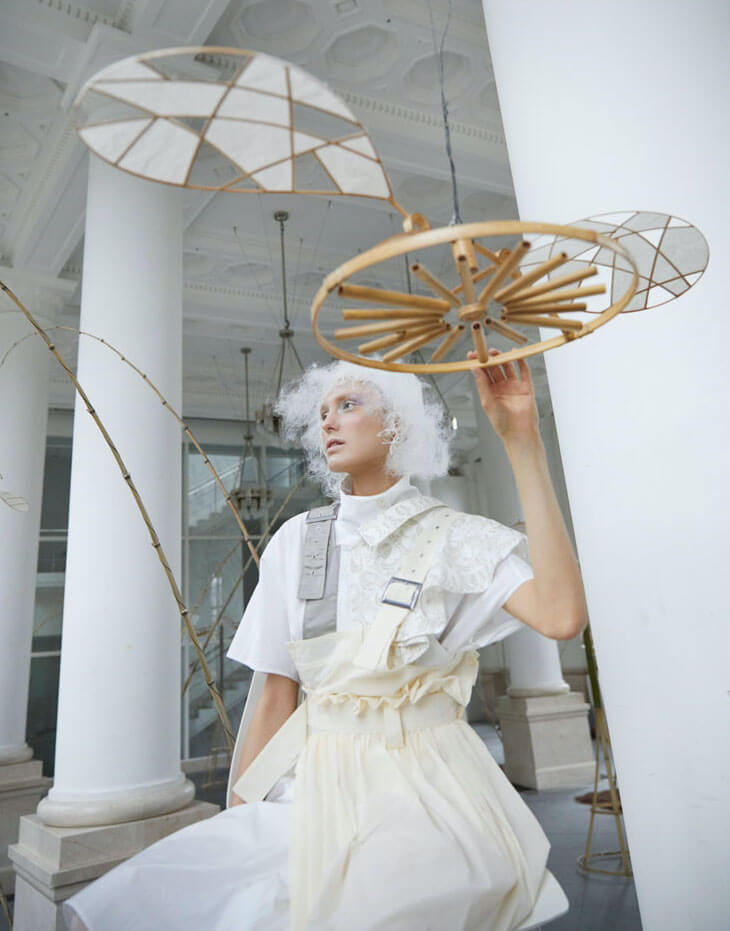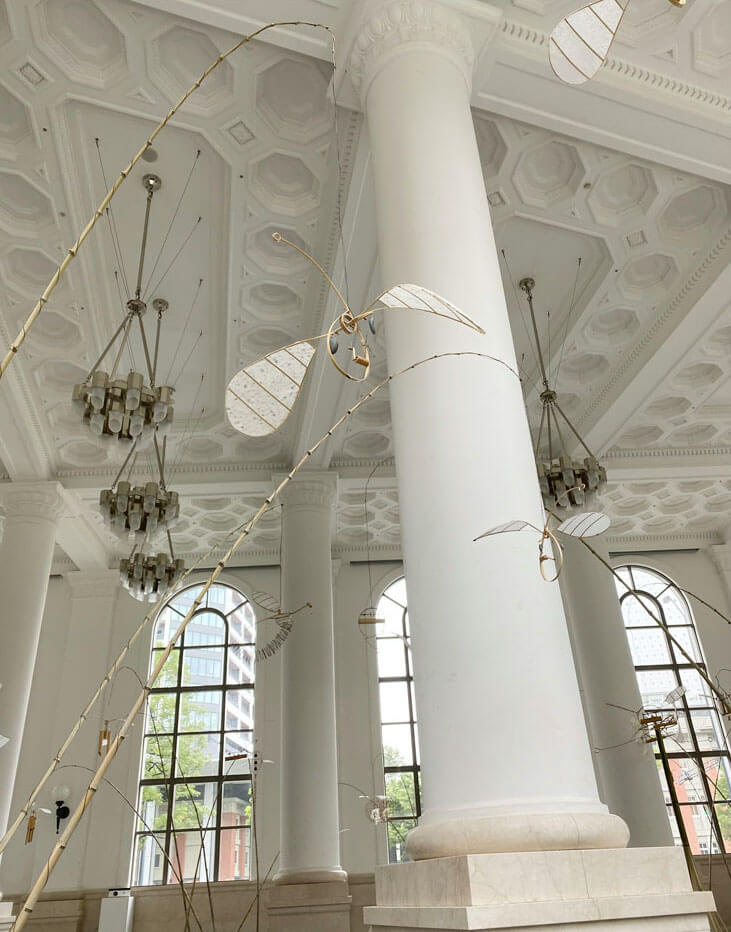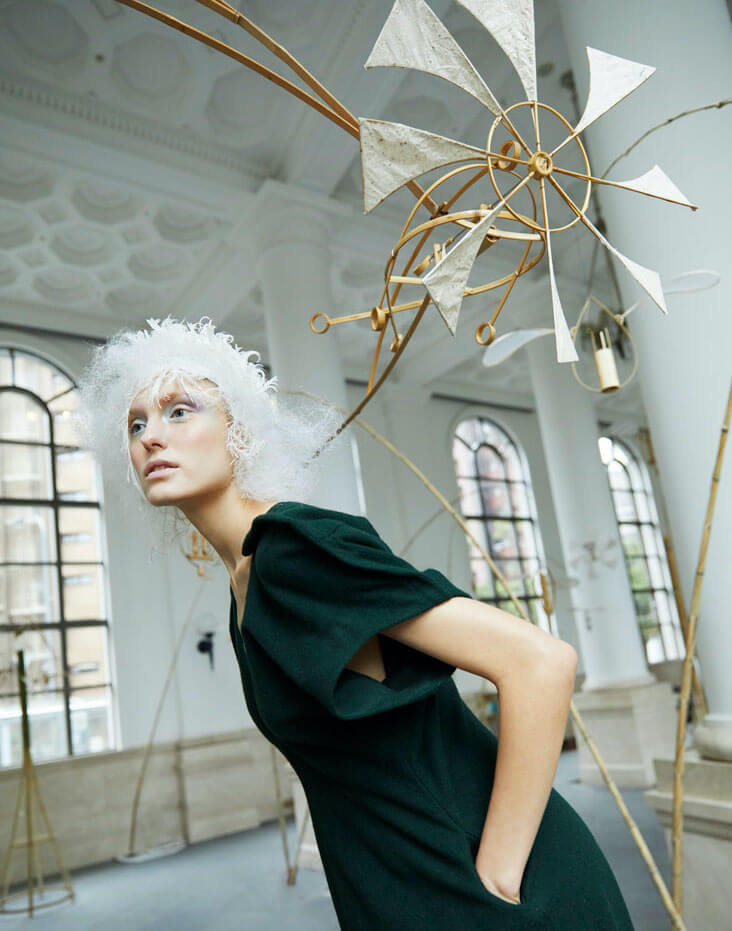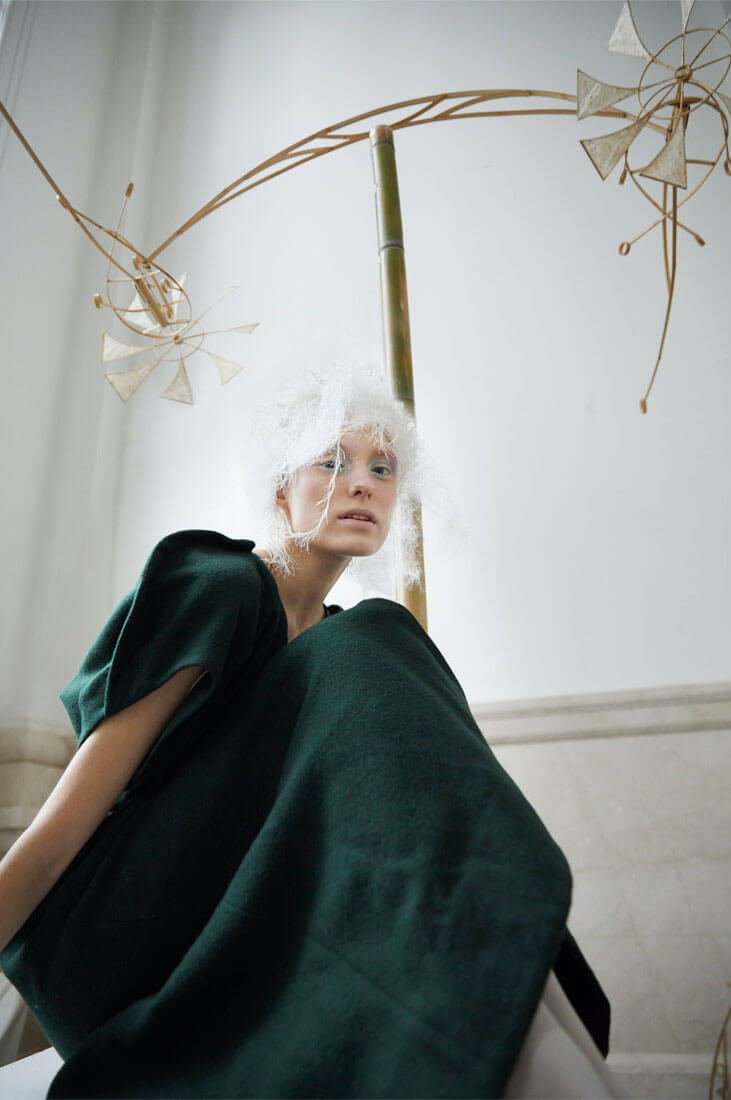 Maki Maruko:
東京をベースに活躍するスタイリスト。
杉野服飾大学でファッションを学ぶ。在学中よりアシスタントをスタートし、2013年よりフリーランスとして独立。
国内だけではなくニューヨークやロンドン、パリ、韓国のファッション誌で活躍する他、アーティスト広告、CM、さらにファッションショーのスタイリングも手掛ける。
stylistmakimaruko.weebly.com/

A Tokyo based stylist.
After being an assistant during her years at Sugino Fashion college, she became a freelancer in 2013.
Her work has been featured in various magazines outside of Japan including New York, London, Paris as well South Korea and has styled for advertisements with artists, commercials as well as fashion shows.


Riina:
東京に拠点を置くヘアメイクアップアーティスト。
国際理容美容専門学に在学中、美容室に勤務。
卒業後、フリーランスのヘアメイク活動と並行してエスティシャンディプロマを取得し、RYUJIに師事。
現在はフリーランスヘアメイクアップアーティストとして広告、ファッションを中心に、CM、タレント、アーティストPVなど幅広いジャンルで活動中。
butyo13.wixsite.com/riina

A hair and make up artist based in Tokyo.
After working at a hair salon during her time at Kokusui Hair Dressing and Beauty Art Vocational College, she became a freelance hair and makeup artist, whilst acquiring an aesthetician diploma and worked under RYUJI.
Currently, she is a freelance makeup artist for various platforms including advertisements, and fashion commercials, as well as promotion videos for artists.